Mrs. Potter's Book Publicity Services Presents:
The Amulet Prophecy Blog Tour
Book #1: The Amulet
Book Description:
Adopted at birth, Emma was raised in a world where magic only existed on TV. While on a search for her birth parents, Emma meets James, the mayor's nephew. An accident involving James occurs, leading her to discover that she's at the center of an ancient prophecy, the Amulet. Simon, a guide sent by the Witches Council interjects himself into her life to teach her all about the magical world. He must protect her from the powerful Wicked and their leader Asher. James, who has a secret of his own, puts her directly in the dangerous path of the Wicked. She faces growing feelings for her guide and the knowledge that she's forbidden to be with the mortal boy she loves. What will she do when she's forced to choose between normal life, and a life full of magic and unlimited power, all before her 18th birthday?
Add "The Amulet" to your Goodreads TBR list:
http://www.goodreads.com/book/show/16282689-the-amulet
Purchase Links:
Amazon: http://www.amazon.com/The-Amulet-Prohecy/dp/1611605466/ref=sr_1_1?ie=UTF8&qid=1374982435&sr=8-1&keywords=the+amulet+holly+zitting
B&N: http://www.barnesandnoble.com/w/the-amulet-holly-zitting/1113891163?ean=2940015813159
Book #2: Talisman
Book Description:
Emma's 18th birthday is quickly approaching. Her decision to side with the Council or the Wicked grows more and more dangerous. In her continued attempts to keep those she loves safe, she is injured. Simon, Peter and those who believe in the Amulet must find a way to save her. But time is running out for Emma and pushes them to risk it all. Their journey will lead them to a new power, a reunited love and dangers at every step. Will the Talisman be enough to save Simon's love? Or will it be the end of the Amulet?
Add "The Amulet" to your Goodreads TBR list:
http://www.goodreads.com/book/show/17878446-talisman-the-amulet-prophecy-book-2
Purchase Links:
Amazon: http://www.amazon.com/Talisman-Amulet-Prophecy-Book-ebook/dp/B00CLRRCDI/ref=sr_1_2?ie=UTF8&qid=1374982435&sr=8-2&keywords=the+amulet+holly+zittingg
B&N: http://www.barnesandnoble.com/w/talisman-the-amulet-prophecy-book-2-holly-zitting/1115234214?ean=2940016611259
Rating:4/5 Stars
Review: Firstly I just wanted to apologize to Holly Zitting because I was on the blog tour and didn't have my review done for my date due to personal reasons. So fail for me. But I just got it read (a few days short but it's done). So here's my review.
This is the second novel in The Amulet Prophecy series that I have read by Holly Zitting. I must say that Holly did it again with this beautiful cover and I must say that I like this one even better than book one. I enjoyed this book although I did find it a bit choppy at times, I think due to the jump in POV's. at the same time I really liked reading the different POV's. Talisman still has a interesting plot that has been carried over from The Amulet and I can't wait to see where it goes from here.
I love Emma's character. I loved reading about her struggle with having to try and choose between Simon and James. I really enjoyed Emma's "medical issue" and I want to know how and it she will have lasting affects. I liked being introduced to all of the new characters, hopefully we see more of them in the coming book. And hopefully in book three Emma will finally make her decision about who she wants to be with, no more love triangle business lol.
Another great read from Holly Zitting. I would recommend this to paranormal lovers. And I will be waiting to get my hands on book three that's for sure. I need to know how everything plays out.
Book #3: The Wishing Well
Author Bio:
"I have been writing for as long as I can remember. I have been writing in the wee hours of the night when my 6 kids were all babies. With my last one I was inspired by the Red Rock Mountains in Southern Utah. I started writing and my 12 year old (at the time) found it. She wrote on the bottom 'FINISH IT!!!' Every day I would write more and she would repeat it.
It became The Amulet.
I am currently living and loving Oregon. I have 6 kids and a wonderful husband of 16 years. I hope you will love my stories as much as I do!" –Holly Zitting
Author Links:
Facebook: https://www.facebook.com/HollyZitting
Website: http://hollyzitting.wordpress.com/
Goodreads: http://www.goodreads.com/author/show/6627423.Holly_Zitting
Twitter: https://twitter.com/HollyZitting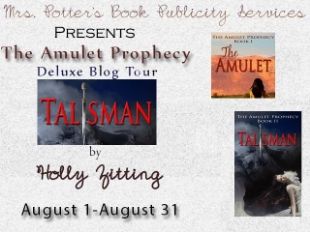 Direct Link to the blog tour page:
http://www.mrspottersbookpublicityservices.com/p/the-amulet-prophecy-blog-tour.html
The author, Holly Zitting has offered to giveaway an ecopy of one of her books. Please leave a comment about why you want to read this series.